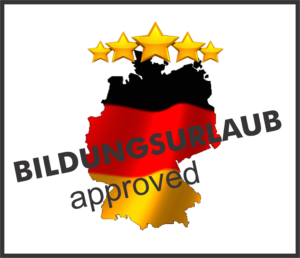 If your goal is to learn Portuguese in a shortest time, this course is for you. In this course you can cover one level according to CEFR standard (Common European Framework of Reference for Languages) per week.
The course is really intensive, and requires very high level of motivation and/or certain language learning abilities.
This course is recognised in Germany as "Bildungsurlaub". This recognition guarantees that we can deliver high-quality courses for our students and that our courses have been officially checked by German ministries of education and meet professional teaching standards.
Course Details
5 morning (9:00 - 12:40 ) and 5 afternoon (14:00-15:50) sessions weekly
Course Material included
Small Groups (2-6 people)
Brazilian Coffee and Filtered Water provided
Letter of Acceptance (upon request)
6 levels (A1 to C2) from Beginner to Advanced
Course price 1.200 R$ per week
Book the course >