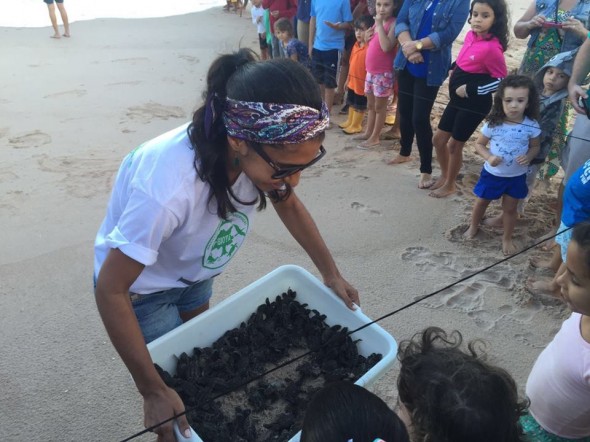 Our partner-NGO Biota successfully concluded another sea turtles hatchling season. Yesterday they organised the last public hatchling release this year. In total more than 100* nests were registered and the births of more than 10 thousand* of sea turtles were accompanied during this season. The nesting and hatching season starts in December and lasts till July. It is the time when sea turtles come massively to the beaches of Maceió to hatch. Especially beloved by them is the "Praia da Sereia" (engl. Beach of the Mermaid), probably because it is still untouched by civilization. There performs Biota most of its activities – patrolling the beach every morning, registering new hatches, monitoring them during the whole season and helping by hatchling release.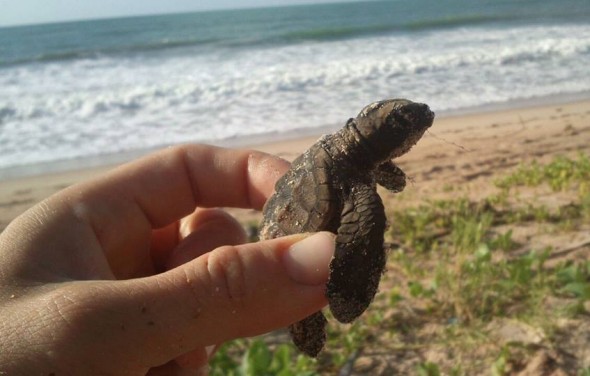 Some hatchling releases are made public in order to increase the consciousness of the population about the existence of the wild life so close to us and the necessity of the nature conservation. Only the consciousness of the people not just actions of some NGOs can guarantee the future of the species.
The next nesting seasons will begin in December. If you want to see the sea turtles hatchlings release come to Maceió in April-May – the time when Biota organizes most of public releases.
* Our rough estimation